Closed for the Season
Re-open: Thursday March 7, 2024
Spring Hours
Thursday through Sunday
11:30-8:00
For Catering or Private Parties during the off season please call (989)324-8618
Have a great Winter see you in the spring!
Open: First Thursday in March
Open: Thursday through Sunday March-May and September-October
Memorial Day to Labor Day, open Wednesday-Sunday
Closed: November, December, January and February
Open 11:30 a.m. – 8:00 p.m.

Iva's has "take-out" deals:

Take Out Specials:
includes 3 pieces of chicken per person, potatoes, dressing, gravy, coleslaw and biscuit. $10.50 per person.
Special for 1 is $10.50, 2 for $21.00, Special for 3 is $31.50, special for 4 for $42.00. Call us at 989-654-3552.
Iva's can accommodate private parties in our private dining room during the off-season. The private dining room can hold up to sixty people. We generally close at 8:00 P.M. but will gladly stay open later for private party needs. Iva's has a full liquor license to make your birthday, retirement or holiday party special. Call 989-654-3552 or 989-324-8618 to reserve the private party room today and to get details on our special menu for large parties.
Iva Ousterhout's famous chicken dinners have been served since 1938. Originally prepared for oil-rig workers who rented rooms from her. Word traveled fast and soon, others wanted to enjoy her delicious meals! Family owned and operated.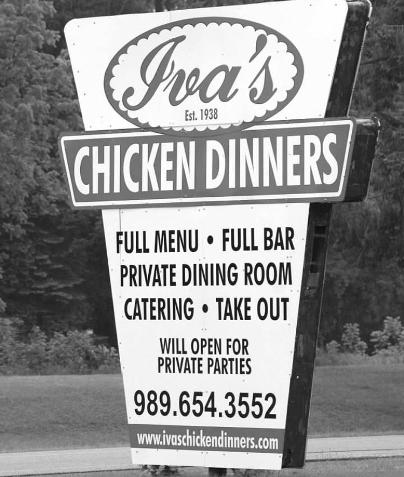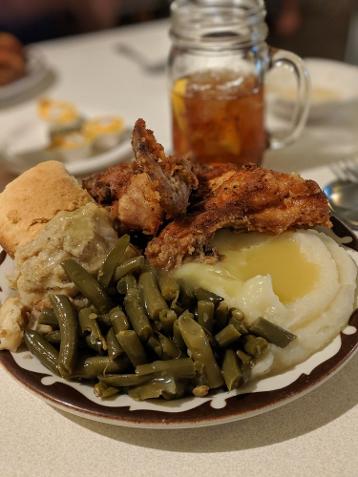 Iva's now offers a Remember When Kardlets Book with nostalgic remembrances of a certain favorite year of yours or someone in your family. They are available on a spinner rack which you can see in the photos below. Each Kardlet sells for $5.99. It makes a wonderful gift for someone you know or just for yourself and family. The years that are available are from 1920 to 2001. See the photos below to get the idea and then come to Iva's to buy them.